remnants of carbon beauty. [album].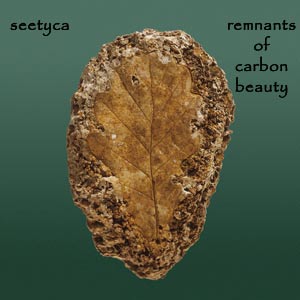 musik von seetyca.
disk one_remnants of carbon beauty:
no.
track.
länge.
mp3.
I.
part I.

853.

II.
part II.

556.

III.
part III.

531.

IV.
part IV.

218.

V.
part V.

407.

VI.
part VI.

519.

VII.
part VII.

132.

VIII.
part VIII.

201.

IX.
part IX.

549.

X.
part X.

548.

XI.
part XI.

146.

XII.
part XII.

311.

XIII.
part XIII.

643.

XIV.
part XIV.

559.

XV.
part XV.

245.

XVI.
part XVI.

326.

disk two_remnants of the mesozoic:

I.
remnants of the mesozoic. suite.

7453.



disk one of this 2-cd-set contains music from the cd-rom-projekct ein audiovisueller spaziergang durch die sammlung of the paläontologisches museum of the tübingen university. here we have the original soundtrack plus unreleased additional material, alternate versions and new mixes. the music was conceived between november 2004 and february 2005, recorded and mixed in mbira world studios by seetyca. produced by seetyca.
disk two contains original music and bonus material mixed into a suite called remnants of the mesozoic. recorded and mixed with the help of dr. dipl.-ing. johann e. mildenberg in march 2005. produced by artin mucht and seetyca.
this work was inspired by wolfgang gerber, achim reisdorf and the paintings of zdenék burian.